*lyric from Elvis Costello's "Alison"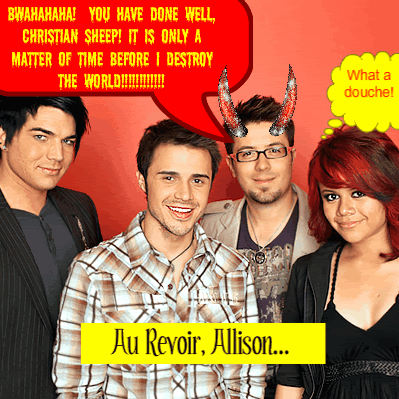 ****
It could have been Hurricane Katrina, Brooklyn style, here at home this evening, as my partner Rob's tears flowed like torrents and I sat pensively staring at the TV (Hey, I don't cry.  Unless I'm watching "The Color Purple".  Or "E.T." Oh, screw it.  I blubber with the best of them) knowing this was the probable conclusion.  Through the gasps of breath and the swallowing of words, Rob stated, forlornly and bittersweetly, "Of all the nights! Rock week! She was rockiest of them all!!!"  And who am I to disagree? Rather who would I be if I disagreed?  Not the true fan of Allison that I am.  No journey moved me more than this spitfire's from Los Angeles.  With no grassroots fundamentalist campaign or sad-sack back story, no dead relatives, and no Jesus complex, she relied solely on raw talent and an undeniable force of will, and proved – beyond a shadow of any doubt – that she stands as the greatest teen Idol of all 8 seasons. 
Witnessing her exit performance of "Cry Baby" was like watching pre-Disney, post-bathhouse Bette Midler, a 17-year-old force-of-nature spelunking the nadir of her soul while tearing the mother-effin' roof off the joint in a more scorching tour de force than any teen has the right to possess.  They tried to pigeonhole her as a Rock goddess (I concur) but she proved just as agile with any genre they tossed in the ring, singing rings around just about any Top 36 contestant.  Her "likeability" always questioned, she was the only endearingly authentic persona on that stage.  She was randomly ridiculed for her fashion sense, but what 16-going-on-17-year old is a seasoned fashionista?  No, Allison was that clichéd "real deal".  I know there're only two weeks left, but Idol will be missing more than a scintilla of joi de vivre without her. 
****
Some quick random thoughts~
It's fitting that Chris Daughtry and his grunge-lite band were musical guests this week, as it was this fateful night three years ago where he succumbed to Ice Queen Katharine McPhee's ascension and just missed a Top 3 hierarchy.  I hope his uber-success is a foreshadowing for Allison's fate.  If ever an Idol Top 5 finisher deserves a relished career, it is she. 
Speaking of Daughtry, perhaps he should have taken back "Renegade" from Kris and Danny rather than sing his sterile new single, "No Surprise"; with it's prophetic title, the song sounds derivative of his debut, which, in reality was watered-down Nickelback who are, historically, a welfare Nirvana, who I'm sure Chris grew up on wanting to be.  Full circle.  No surprise.
****
Oh, by the way Idol producers, here's some news for you.  Season 5′s third place finisher, Melinda Doolittle – remember her?  The artist who should have walked away victor that year? – has a resplendent, brilliant new CD called "Coming Back To You" and it's the ONLY Idol CD  EVER released that is wholly listenable from first track to last.  Was her invite lost in the mail?  Did Kellie Pickler hijack it on her way to her plastic surgeon?  I mean, what will it take to get this monumental talent on that Idol stage?  Here's a quick study for your consideration:
****
While I was thrilled there wasn't a Harajuku nymphet (or an Akon) in sight I must ask if we really need a No Doubt reunion in 2009?  Didn't we tire of their pseudo Ska-Meets-Mtv affect years ago? And just how does a female singer become a caricature of one's self so quickly?
Well, we can ask Paula Abdul.  Happy she's finally free of her PAINKILLER ADDICTION (which explains her new-found clarity), for the first time in 8 seasons she gets to "perform" (lip-synced Tuesday evening) her new single "I'm Just Here For The Music", and with it's chintzy melody and primitive choreography, it's obvious that Abdul wants us to party like it's 19…uh…89. 
****
Once again, the sit down interview with the remaining four became the Danny Gokey show, as Idol allowed this vainglorious buffoon to renege his whole "I don't think it was bad" spiel after Tuesday's negative feedback by assuring his bible-thumping sheep that (har har) he gets the joke and (har har) even his family muted the TV (har har) and that when he listened back he laughed and laughed (har har). 
So, with Allison's dismissal, a Rock N' Roll final is a mere pipe dream.  Adam, Danny and Kris create Idol's first ever all-male triumvirate.  No theme was announced for next that I heard, but I missed the last 30 seconds or so of the show.
But as the old adage says, payback's a bitch.  I say Adam should sing "Dream On".  (Har har Gokey).
****
Click on the pic of Jim's Gokey possession for his latest "Idol in :60″: