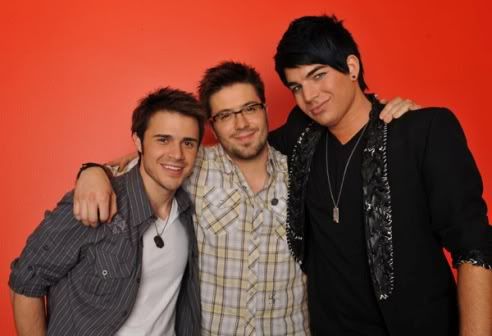 ****
I know it might be too much to ask, but I must.  For the sake of our sanity, for our well-being, for our overall stability.  Dear readers, we need to try, like all good post-modernists…I implore thee…just try, with all the inner strength we can muster…all the power we can emanate.  Last week's tragic Allison elimination was and is hard on us all, I know.  But. We. Must. Move. On. 
Perchance, if we believe in the forces of mythology (or voodoo – or Christendom or Santa Claus or the Tooth Fairy or Santeria…oh, it's all the same) then we can convince ourselves it was God's will!  YES!  Maybe He destined his messenger-on-earth to rattle His dominions to hold prayer meetings and voting block parties to disallow the sinners to ascend to the mighty stairway to the top (of Idol, that is).  Yea, so I walk through the valley of….oh, you get it.  Those jovial religious freaks!  They are such a hoot!  They love them some Gokey!  But, I pontificate, non-believer that I am.  And it's not really fair to blame Gokey's religious zealotry on his status.  After all, Kris himself is also a 'worship leader', although he doesn't whore it like Danny.
Again, pontificating.  Sorry, long day at work, long night at home, and I'm exhausted.  And this lackadaisical Top 3 edition of Idol wasn't what I expected.  With one choice in KRaPSs hand and one in their own, I expected a thriller of an evening.  What I received was a bummer. With one – count 'em – ONE performance that came close to a home-run, it's ironic that Simon took every pre-Top 3 performance interview opportunity to claim Kris out-of-league to Lambert and Gokey.  Guess whose home-run it was?
Randy proclaimed this evening that Lambert was one of the best singers in Idol's history, and while I'll concur that sentiment, this remained his weakest night, while Gokey's sturm und drang revue was in full bloom.
Despite an uninspiring evening, it's gonna be tight, folks.  Though it clearly shouldn't be.
****
Danny Gokey
Paula's Choice: Terence Trent D'Arby's "Dance Little Sister"
Grade: C+
His Choice: Joe Cocker's "You Are So Beautiful"
Grade: B-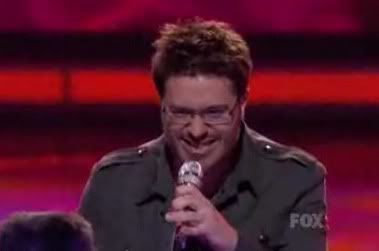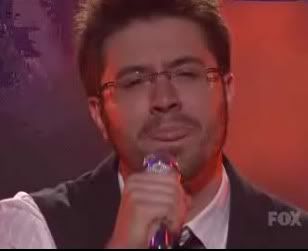 If one didn't know Paula's history better, one might have raised an eyebrow with her choice of an obstruse Terence Trent D'Arby track for Gokey (ironic song title since he's about as funky as a platypus) – she was the judge, after all, who in season 5 chose the obscure Bobby Caldwell track "What You Won't Do For Love" for Elliott, and The Police's "Roxanne" for a rangeless Blake Lewis in season 6.  Could one surmise that it was a secret desire by Abdul to blow Gokey's chance for a deserved Allen/Lambert finale?  Well, I doubt that.  This was the judge, after all (oh, deja vu!), who weeks ago "predicted" a Gokey Top 2 finish.  His grooveless, inept performance notwithstanding. 
To me, Gokey will always be the retarded little offspring of Taylor Hicks (whom I've compared him to since January) and Beelzebub-by-way-of-Linda Blair, so how apropos that his choice would be the same that Randy hand-picked for Hicks in Hicks' finest season 5 Idol moment.  Where Hicks' version was reflective and subdued, Danny sadly morphed a lovely ballad into a clunky, clammy snarl.  Thankfully, he refrained from his wobbly stage persona and mostly remained seated but when he inculcated a tinge of mucilage gospel, it was a Maalox moment.  When Simon added to his already season-heavy malapropisms by stating it a "vocal master class", it was Depends all the way.
****
Kris Allen
Randy/Kara's Choice: OneRepublic's "Apologize"
Grade: B-
His Choice: Kanye West's "Heartless"
Grade:  A-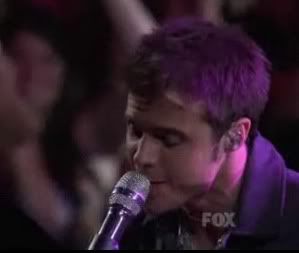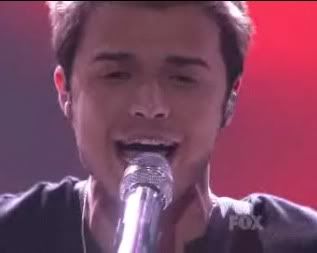 "Apologize" was chosen by Kara and Randy because it was "Open for interpretation", and while Kris is infinitely superior to Ryan Tedder and his monstrous OneRepublic (meet the new Air Supply, same as the old Air Supply), this remains his clunkiest performance of the season (especially taking into consideration that almost exactly one year ago, David Archuleta came out and embarrassed the hell out of Tedder by out-performing Tedder on his own song on their finale-show duet).  He misses the power falsetto (so does Tedder live – YouTube the aforementioned duet. Pro-tools is a dream for his tuneless ilk) and his wavering voice showcased a fear and discomfort away from his element. 
However, a monumental debacle and auto-tuned nightmare that happened right on the Idol stage a mere few weeks ago by Kanye West himself begot the best performance of the evening.  Borrowing from The Fray's eclectic West cover, Kris decimated the memory of his first song, jamming "Heartless" up in a soaring performance.   He proved that, even more than Lambert – and obviously more than Gokey, he's the more commercially viable of this years top 3.
****
Adam Lambert
Simon's Choice: U2′s "One"
Grade: B
His Choice: Aerosmith's "Cryin"
Grade: B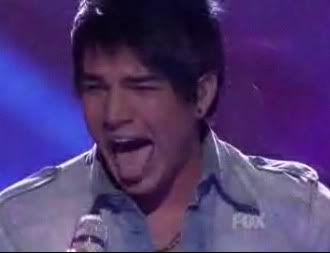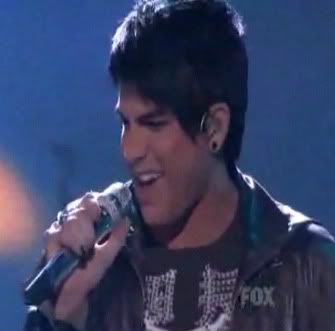 Simon's choice of U2s "One" – one of the great rock anthems of all time – was a bold move which was, unfortunately – and despite the judges unanimous exaltation – executed disparately.  A poetic, painful lyric of an AIDS-stricken man's dying confessional to his father, Lambert's plaintive, beautiful opening was infused with a passionate yearning.  But by slipping into the meretricious, indulgent vocal melodramatics, it quickly became an imbalance of reticent and hysteria, which negated the lyrical redemption and overall beauty of the song.  
Following last week's show, I jokingly suggested that Adam show Danny how it's done and should choose "Dream On" for this evening's festivities. Almost sweet justice.  I'd accuse Lambert of deliberately face-slapping Gokey with his choice of (not-early Aerosmith, Kara) "Cryin'" if he weren't so damned humble and gracious, calling out Allen's and Gokey's talent in Idol solidarity.  Sometimes vocal pyrotechnics are almost mandatory, especially if attempting Steven Tyler's legendary howl (note to Gokey: NOT YOU).  Still, Lambert has rarely seemed so cold and calculated as his recital tonight.  I won't claim haughtiness, because I sense nil, but with both "One" and "Cryin'" I don't sense the Rock-star-in-waiting that the judges foresee. Clearly the best vocalist left standing – and the best male Idol vocalist of its history – tonight it felt more like non-stop erratic cabaret.
****
And so it goes.  The final performance show before another season winds down with next week's finale.  Will it be Lambert/Gokey (yep)?  Or will the Kris brigades assure us a more justifiable showdown (nope)? 
Who knows.  All I know is I'm missing her big time.